Today my web site has reached a very interesting milestone: It registered the 500,000th article view. A good moment to look back a bit, and see what happened with my site during the past few years.
I started this site back in September 2003 and only added a few articles during its early stages. I wasn't sure in what direction I should take it, but I decided to publish some technical articles about things I encountered in my professional live as a programmer, a tech lead and a technical author. Back in the beginning, I posted a lot about good ol' "classic ASP but already started to write about ASP.NET 1.0. Obviously, this was soon followed by .NET 2.0, long before it was released in November 2005. And recently I have started writing about the upcoming Orcas release that brings us ASP.NET 3.5; another big step forward in web development.
As my site began to grow, I added a bunch of features that allowed me to see how well the site was doing, including a rating mechanism for articles, and an Article View Counter. Back in 2004, around 60 to 100 articles were read on a single day. Nowadays, this number is much higher with a daily average of around 2,500, peaking to days with more than 5,000 article views.
Tp put things into perspective, Wikipedia published there 500,000th article in March 2005, Skoda produced their 500,000th Octavia in April 2007 (can't imagine who wants one) and iStockPhoto accepted their 500,000th image in 2005. But, even compared to big names like these, I think 500,000 article views is still an impressive number.
I have been watching the article counter for some time now, each time seeing it getting closer to half a million (!!) article views. But finally, today, it was the day. Quite an achievement for a small site like mine, running on my privately owned server living in my attic. The actual number may be a little higher as I only started tracking article views in November 2004, while the site came on-line in in september 2003 with this article about sending e-mail from an ASPX page.
However, right in the beginning, things weren't so busy over here. The following chart shows how traffic evolved over the past three years (minus a few months) broken down by month, showing the total number of article views: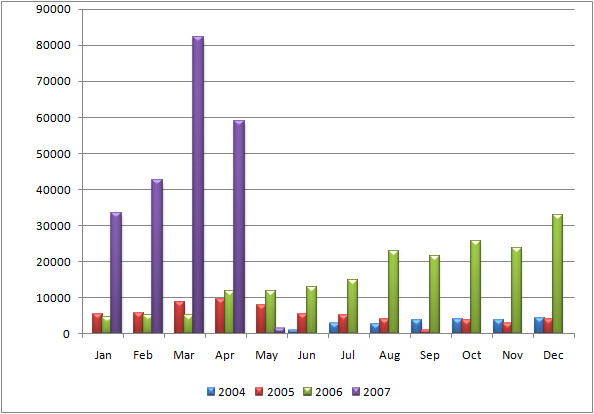 Especially since October 2005, you see a constant growth in the number of people that read stuff on my web site. It's interesting to see how especially during the last four months traffic has increased big time. This can be seen a lot better in the following chart: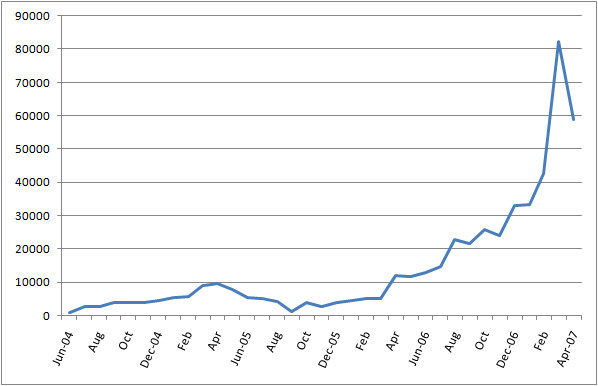 The peak in the article views in the first four months of this year are mainly caused by my article series about N-Layer design. The three articles combined have been read well over 55,000 times, contributing more than 10% of the total number of article views.
Oh, and that dip in September 2005? That's my server being down for weeks due to hardware failure.... ;-)
Some Other Interesting Figures
If you have a site like mine up and running for a couple of years, and collect data like a squirrel (that is, collect a lot, loose half of it), you can come up with some interesting statistics. Here are just a few:
| | |
| --- | --- |
| Number of articles read (excluding Search Engines) | 500,000 (and counting) |
| Number of articles indexed by well-known search engines | 67688 |
| Unique IP Addresses that visited my site | 189647 |
| Busiest day ever | March 7 2007, with 5800 article views |
| Number of comments posted by visitors | 1037 |
| Number of comments answered by me | 578 |
Most Popular Articles
Obviously, when looking into the past, it makes sense to look at the most popular articles. I don't keep a running list of popular articles on my site, as I believe they leads to a self-fulfilling prophecy. With such a live list, articles become more popular, simply because they were popular in the past, and people are curious to see what they are about.
However, now is a good moment to see what made Imar.Spaanjaars.Com so popular in the past three years. Here's a list of the 10 most popular articles with the number of views between parentheses:
Again, it's interesting to see how my n-layer articles made it to the top 10 so quickly, considering they have only been on-line for a couple of months.
The article about Crystal Report parameters is firmly located on the number one spot. At the same time, it's *the* article I wished I'd never written, as it seems to attract the most off-topic comments from all articles. I think it's about time I build a "Comments for this article are now closed" feature, for that article alone ;-)
The least popular articles are a little difficult to track. There are a large number of articles on my site that are not publicly available which have received only a few hits by visitors with an account to my site. In general though, articles with the lowest number of hits tend to fall in the category "site news" that announce new articles and new features. It makes sense that they are the least popular, as it's content that is king, not irrelevant information about that content.
Fortunately, most of the articles with a high visit count, also receive good ratings. Here are the articles with the highest user ratings that received at least 10 votes. The number in parentheses is the average rating, on a scale from 1 to 5.
Again, it's good to see a recent addition to the site - the article series about n-layer design - to be so highly rated.
Well, I think that's enough numbers about this site to get everyone bored except for driven mathematicians, so I'll leave it to this.
All Because of You
All these numbers have been made possible by you: the reader of Imar.Spaanjaars.Com. It's good to see that what I write means something to those who read it. That's what makes it worth writing in the first place.
So, thank you all, and keep visiting Imar.Spaanjaars.Com
Imar