Want to Win a Copy of my Book Beginning ASP.NET 4 in C# and VB?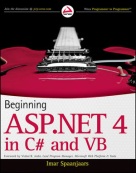 Then Follow me on Twitter and Tweet about this Giveaway
I'll give away one copy of my book for every 50 new followers on Twitter while supply lasts. All you need to do is follow me on Twitter, tweet about this action and then send a tweet mentioning @ImarSpaanjaars with a short message on explaining why you want or need the book.
If you are already following me on Twitter and want to participate, just tweet about this action and send a message that contains @ImarSpaanjaars detailing why you want the book.
In both cases, mention @ImarSpaanjaars and the URL of this page (http://bit.ly/c4Yjzy in your tweet.
I'll draw a winner from each 50 new (or existing) followers at the end of August 2010. If you've won, I'll DM you for a shipping address and ship the book to you.
Where to Next?
Wonder where to go next? You can read existing comments below or you can post a comment yourself on this article .

Consider making a donation
Please consider making a donation using PayPal. Your donation helps me to pay the bills so I can keep running Imar.Spaanjaars.Com, providing fresh content as often as possible.
| | |
| --- | --- |
| QuickDocId | 554 |
| Full URL | http://imar.spaanjaars.com/554/want-to-win-a-copy-of-my-book-beginning-aspnet-4-in-c-sharp-and-vb |
| Short cut | http://imar.spaanjaars.com/554/ |
| Written by | Imar Spaanjaars |
| Date Posted | 08/03/2010 15:08 |