Ding Dong.....
They're here....
My books have arrived!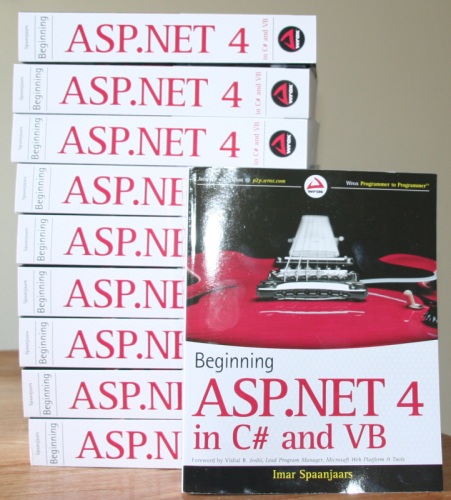 I really like the new Wrox layout and typography. I hardly dare looking inside, afraid to find a mistake. I remember when I handed in my thesis years ago after months of hard work and a gazillion spelling checks, I sat in the train on my way home and read one of my own copies, only to find a spelling mistake in the foreword ;-)
Having learned a lot from that moment, I have gone through this book over and over again, so I am pretty sure the actual number of mistakes is as close to zero as possible....
Where to Next?
Wonder where to go next? You can read existing comments below or you can post a comment yourself on this article .

Consider making a donation
Please consider making a donation using PayPal. Your donation helps me to pay the bills so I can keep running Imar.Spaanjaars.Com, providing fresh content as often as possible.
| | |
| --- | --- |
| QuickDocId | 522 |
| Full URL | http://imar.spaanjaars.com/522/ding-dong |
| Short cut | http://imar.spaanjaars.com/522/ |
| Written by | Imar Spaanjaars |
| Date Posted | 03/16/2010 15:57 |