Sometimes the Error Message Says It All...
Sometime ago I was working on a Web Application Project in Visual Studio 2008. The web site I was working on couldn't run against the built-in web development server, so I ran the application against IIS 7 on my Windows Vista machine (IMO, that's probably the best reason to upgrade to Windows Vista if you are a web developer: multiple web sites in IIS 7).
Life was good until I started debugging...
As soon as I hit F5, I got the following error message:

I was a bit surprised as I wasn't using a VD, but a root-based web site. I had debugged IIS web sites under Vista many times before and never ran into this problem.
Naturally, pressing Yes didn't solve the problem, and neither did pressing No. In 90% of the cases (and especially so on Vista) these type of errors are related to security, so I went ahead and checked the following:
Integrated Security was turned on for the web site.
The NTFS settings for the underlying folder were fine.
I was running Visual Studio 2008 as an Administrator as that is a requirement for debugging IIS with UAC turned on.
On the project's properties debugging was turned on, the URL was OK, the project was in Debug and not Release mode and so on.
Many many things more....
I spent way too long trying to figure out what was wrong before it finally hit me: maybe the error message had it right after all? Maybe there was no http://myproject.local.spaanjaars.com? I opened up the IIS Manager, found my site and looked at the host headers: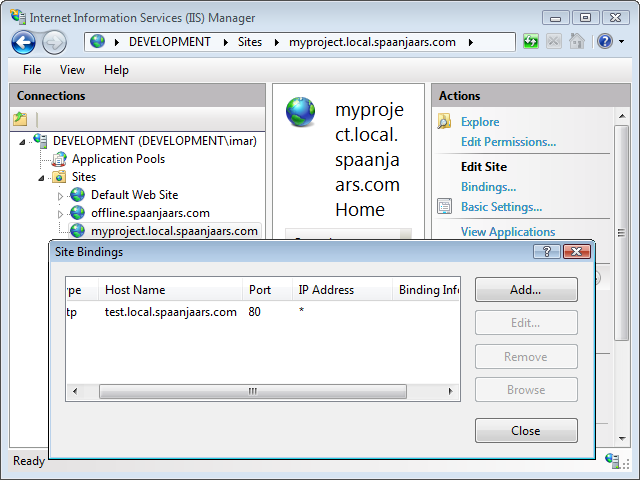 Although the site was named myproject.local.spaanjaars.com, the actual host header was set to test.local.spaanjaars.com. IIS couldn't find the right site, and instead gave me a correct error message.
So, next time you run into a debug error, make sure you are really debugging the site that you think you are debugging... ;-)
Where to Next?
Wonder where to go next? You can post a comment on this article. You can read existing comments below or you can post a comment yourself on this article .

Consider making a donation
Please consider making a donation using PayPal. Your donation helps me to pay the bills so I can keep running Imar.Spaanjaars.Com, providing fresh content as often as possible.
| | |
| --- | --- |
| QuickDocId | 444 |
| Full URL | http://imar.spaanjaars.com/444/sometimes-the-error-message-says-it-all |
| Short cut | http://imar.spaanjaars.com/444/ |
| Written by | Imar Spaanjaars |
| Date Posted | 04/05/2008 19:29 |