My Books Have Finally Arrived!
After almost a year of hard work, today was the day: my new ASP.NET book arrived.
About a year ago I started with a rough idea for the book, sketching out some scenarios, testing out concepts, and worked on some rough ideas for the book's structure, code samples and the demo application (now available at www.planetwrox.com).
Today, a year after the start of the book, I was greeted by a big box in the hallway when I came home from work; my books had finally arrived. Curious to know what ten copies of Beginning ASP.NET 3.5 look like?? ;-)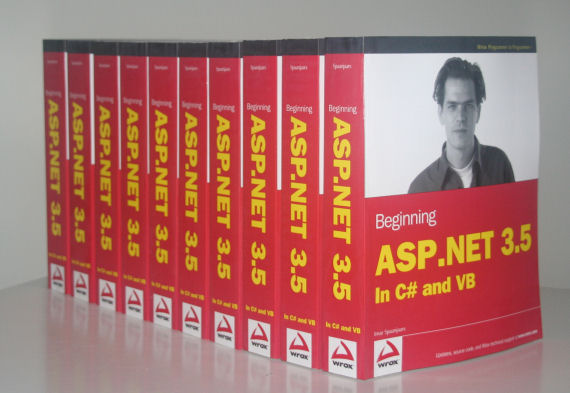 Unlike last time, I don't have any books to give away. All the of them already have a name tag on them, for people who contributed to the book somehow.
Interested in getting your own copy? Check out this page at the Wrox web site, or check out the book at Amazon.
Where to Next?
Wonder where to go next? You can read existing comments below or you can post a comment yourself on this article .

Consider making a donation
Please consider making a donation using PayPal. Your donation helps me to pay the bills so I can keep running Imar.Spaanjaars.Com, providing fresh content as often as possible.
| | |
| --- | --- |
| QuickDocId | 439 |
| Full URL | http://imar.spaanjaars.com/439/my-books-have-finally-arrived |
| Short cut | http://imar.spaanjaars.com/439/ |
| Written by | Imar Spaanjaars |
| Date Posted | 02/25/2008 22:17 |