I just came home from a short trip to Frankfurt, Germany together with my brother where we watched the Dutch play against Argentina. Unfortunately, the game ended in a draw of 0 - 0.
But, regardless of the score, it was great fun being there.
We went there by car as Frankfurt is reasonably close to my home town. Despite the many warnings about traffic jams and long delays at the German border, the trip went smoothly. Within 5 hours we made it to the Maritim hotel in Frankfurt where we had to pick up our tickets. After we picked up the tickets, we still had 5 hours before the game began, so we headed into town to enjoy the festivities. First, we headed over to the "Fan Fest" near the river Main. Thousands of soccer fans, most of them dressed in orange of course, gathered there to see the game on a couple of huge TV screens placed in the middle of the river.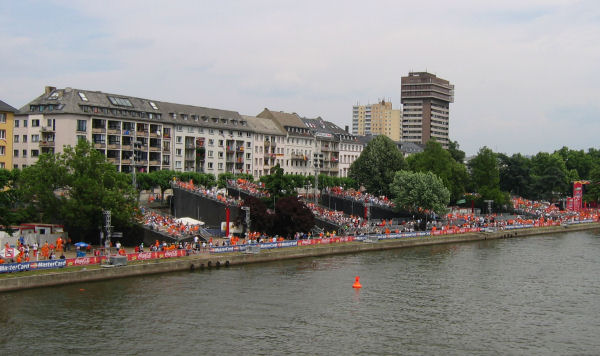 After we visited the Fan Fest, we went into town to drink beer and enjoy the weather and the good atmosphere. Wherever we came everyone was dressed in orange....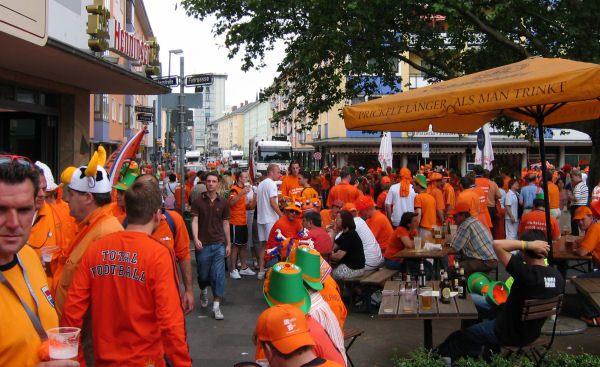 At around 6, we had to be back at the Maritim hotel to take the bus to the stadium. My brother managed to get VIP tickets for the game, so we got VIP treatment all the way. A luxurious bus, taking us straight to the stadium, a special entrance into the stadium with no queue, free food and drinks before, during and after the match, and a great seat: on the long side, just a couple of seats above the Argentinian duck-out.
There were a lot of VIPs in our VIP box, including Diego Maradona (3 rows behind us, see picture), Boris Becker (a few seats next to me), Willem Alexander and Maxima and our Prime Minister.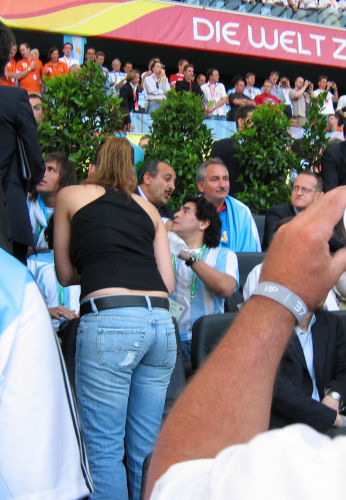 Unfortunately, the game wasn't as exciting as I had hoped for. Both teams played it safe, as both knew they made it to the next round anyway. We had a number of chances, and so did the Argentinians but neither team managed to score.....
After the match we headed back home straight away. It's great fun driving in Germany at night, because there are virtually no speed limits on many highways. At 4 o'clock at night we were back at home....
It was a great day, and I wouldn't have want to miss it. It's just a pity that the Dutch couldn't win the match, which would have completed the party. Well, let's see how we do against Portugal this Sunday ....
If you have a user account for this site that grants you access to the Photo Album section, you can watch some more pictures here.