They're Finally Here!!!
Today, I finally received my own ten copies of the book ASP.NET 2.0 Instant Results.
The book has been available on sites like Amazon since March 20, but apparently it took some time before they got shipped to me. But, today, they finally arrived. I quickly browsed through one of them, and it looks as good as I had been hoping for.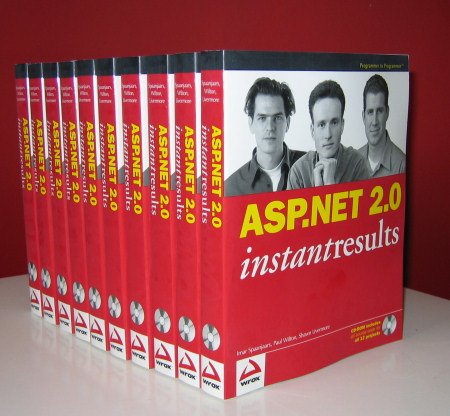 I don't have the time to read them all... ;-) So, I'll be giving away most of them. Some of them already have a name tag on them, for friends, colleagues and people that contributed to my book.
If (and only if) I have any books left, I'll come up with a little quiz so you can win one. If you want your own copy now, check out the About ASP.NET 2.0 Instant Results page and follow the link to the Amazon site.
Where to Next?
Wonder where to go next? You can read existing comments below or you can post a comment yourself on this article .

Consider making a donation
Please consider making a donation using PayPal. Your donation helps me to pay the bills so I can keep running Imar.Spaanjaars.Com, providing fresh content as often as possible.
| | |
| --- | --- |
| QuickDocId | 386 |
| Full URL | http://imar.spaanjaars.com/386/theyre-finally-here |
| Short cut | http://imar.spaanjaars.com/386/ |
| Written by | Imar Spaanjaars |
| Date Posted | 03/30/2006 15:14 |